I am
beyond
excited to introduce two new buttons for my blog that were designed by...moi! As in little ole' me. During naptime. Can you believe it? The best part is that I just saved myself $30-$50 that I would have spent getting someone to design these for me. And guess what? You can too because I plan to dedicate an upcoming blog post on how I did this!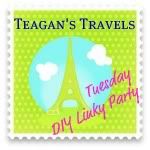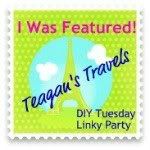 But even more exciting is my announcement (I suppose the buttons gave it away) of my new
Destination: Inspiration Tuesday Linky Party!! I've been wanting to host
a linky party for a while and so can't wait for this Tuesday, February 7th! Any family friendly post goes. It will include Valentine's decor, crafts, tutorials, Etsy goods and more. Be sure to link up and then come back next week to see if you were featured!
Prayer Requests
I didn't blog much this week because my stepmother found out her cancer has returned for the third time. To make matters worse it has spread from her abdominal region in the form of three serious brain tumors. This was just devastating news but her faith is strong and we are taking one day at a time. My sister Melissa is in Texas with her. Our nephew Kade is staying with us and we just love it but know he misses his Mommy. Shirley has a tough road ahead of her and we would so appreciate any of you who could remember her, our family and the medical team in your prayers.
As I thought about this post today I realized it has been a while since we had prayer requests. It just seems so many have needs at the moment. What about you? Do you have something you would like help with? It would be my absolute honor to pray for you and I know others who read this blog would join me. Please leave a comment below or send me an email at
teaganstravels@yahoo.com
1 Peter 3:8
Finally, all of you, live in harmony with one another; be sympathetic, love as brothers, be compassionate and humble. (NIV)
Happy Sunday everyone! We are off to church in the morning and then then it is Super Bowl time! What are you doing on the big day?
Michelle