God is our refuge and strength, an ever present help in trouble. Therefore we will not
fear though the earth give way and the mountains fall to the heart of the sea.
Psalm 46:1-2


Teagan is all about the color green, being three years old, dinosaurs, and snakes.

In that order.

Now, I know what you are thinking: she is a ballerina in the making, no? OK, m

aybe not.

Luckily our local library has all she needs to nurture our little paleontologist in the making.

This week we checked out a really cute book called

The Littlest Dinosaur by Michael Foreman.

So far we have read it no less than twenty times.
I've been thinking about a line in the book. The Littlest Dinosaur was terrified and feeling quite small, he decided that because he was, after all, a dinosaur, he would be brave in the midst of fear. It was his right. It was natural. And this forced courage prompted him to have true courage. In the end, he was able to encourage another frightened creature in the woods and lead him to safety.
The heart of a dinosaur.
In recent days as I have missed my mom terribly. My stepmother. My father. Man. What a tough year. My heart, I must admit, has been torn. I find quiet moments the hardest. When it is tough to be brave. I find it impossible to imagine me...little me, encouraging others. But what I know...in my littlest dinosaur heart...is that I am a child of God. And it is my right to rely on the greatest power in this world. It is natural. It makes sense. Nothing and no one can conquer our Lord. And His truth tells us He is with us always. When we worry. When we fear. When when cry and need comfort. And I know with God's help I too can find a courage that will lead me to encourage others. And for this reason, I praise Him for this storm. For these moments that so prepare me to walk beside the brokenhearted.
My Senior Pastor at church offered up this wonderful quote. Praise God for His timing which always gives me the perfect message just when I need it most:
William Arthur Ward said, "Flatter me, and I may not believe you. Criticize me, and I may not like you. Ignore me, and I may not forgive you.
Encourage me, and I will not forget you
.
And so friends...today, my Destination: Inspiration linky party is back! But I am changing things up a bit. Today and future linky parties are still about inspiration...and encouragement. After much soul searching I moving away from the crafting and recipes focus in lieu of inspirational writing. If you are a blogger I so wanna read your past and present writings. Submit away as many entries as you like! I can't wait to read each and every one of your entries!
Destination: Inspiration
Party!!!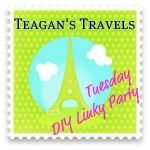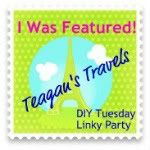 *I am trying to grow my little blog so I'd really be excited if you would follow me using Google Friends Connect or Linky Followers on my sidebar!


*Grab my button and post it somewhere on your blog if you want to totally make my week.
*Link to your post instead of your overall blog address.
*We all love comments so spread the love to at least one other blogger.
Have a great week!
Blessings,
Michelle