In April 2011, I posted
Until The Whole World Hears.
I wrote about my role as an
Advocate for Compassion International.
We are blessed to sponsor a little girl in Rwanda named Pascaline, along with a little girl in Burkina Faso named Elibie. These girls have become such a part of our family! We treasure receiving letters and progress reports from them. And we believe we are in partnership with their parents to provide them with the best future possible. But most of all we love seeing how Christ is working in their lives and using compassion from around the world to release them from the devastating affects of poverty. I pray one day I will have the joy of introducing Teagan and Isla to their sisters in Christ!
This week I've been singing away in the car to the song that inspired my post. It is by my favorite band, Casting Crowns....
Isn't that an amazing song? It reminds me that in our world there are places where there is little hope, much darkness and people who have simply never heard of Jesus Christ. I believe we have a vital role to play in getting the message of His love, salvation and hope to others.
That's why I am simply giddy that the BIG week is finally here! Starting Thursday I will be in Concord, North Carolina for Proverbs 31 Ministries'
She Speaks conference
! There will be 650 women from around the world attending this as leaders, speakers, and writers who have been called to ministry by God. I am so honored to be part of the group this year and can't sleep due to the excitement!
I have been praying God would use my love of writing and my blog to grow His kingdom. This conference will provide me with so much information and the tools to do so! Stay tuned as I can't wait to share what He is doing in my life and others attending the conference!
In the meantime, I am really looking forward to this week's Destination: Inspiration submissions! Show us what ya got!
Destination: Inspiration
Party!!!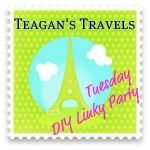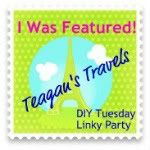 *I am trying to grow my little blog so I'd really be excited if you would follow me using Google Friends Connect or Linky Followers on my sidebar!


*Grab my button and post it somewhere on your blog if you want to totally make my week.
*Link to your post instead of your overall blog address.
*We all love comments so spread the love to at least one other blogger.
Have a great week!
Blessings,
Michelle